Things You Might Not Know About the Women of Wakanda
Marvel's "Black Panther" officially opens today and it's already a box office success. There's a lot of great things to comment on, but as to not give anything away, here are five things to know about some of the fascinating women of Wakanda, the fictional African land where much of the film and comic book series are set.
Danai Gurira plays Okoye, part of the Dora Milaje, personal guards to the King of Wakanda. (In the comic books they're also ceremonial wives-in-training.) Many might recognize Gurira from her role as Michonne on "The Walking Dead." Yet, few may know that this powerhouse actress is also an award-winning playwright. In fact her play, "Eclipsed," was nominated for several Tony Awards, including Best Play and Best Actress in a Play, Lupita Nyong'o. Talk about being skilled.
Speaking of Lupita Nyong'o, the Oscar-winning actress ("12 Years a Slave"), started her film career as a production assistant. She was recently heard as the voice of Maz Kanata in "Star Wars: The Last Jedi" and "Star Wars: The Force Awakens." She's also an Ivy League graduate, earning her MFA from Yale University.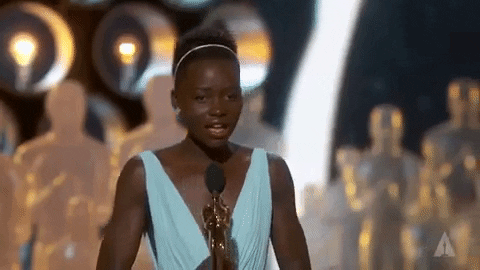 What, oh what, to say about Angela Bassett? It's so appropriate that she's playing a Queen on screen because she is acting royalty. She was the first African-American woman to win a Golden Globe Award for Best Actress - Motion Picture Musical or Comedy for her portrayal of Tina Turner in "What's Love Got to Do with It." Bassett plays Ramonda, mother to T'Challa (aka Black Panther) and his sister, Shuri. At one point, she looks a bit like Storm from X-Men, which could be a nod to the fact that in the Marvel comics T'Challa and Ororo Munroe (aka Storm) get married (and divorced).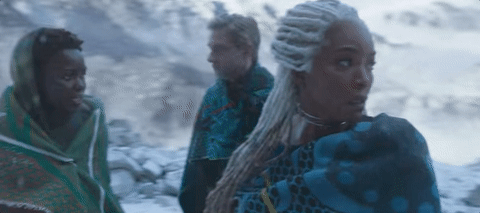 Letitia Wright has had a few small roles before playing the tech genius and younger sibling of T'Challa. That being said, Shuri is an interesting character and the Marvel Cinematic Universe could easily expand her role in coming films. At one point in the comics Shuri becomes the Black Panther. While I hope Chadwick Boseman keeps his role for a while, I can't lie. It'd be amazing to have a Black Panther movie with Shuri in the title role, especially if Letitia Wright is the lead.
Florence Kasumba plays Ayo, another member of the Dora Milaje. She was Senator Acantha in "Wonder Woman" and is set to play the voice of Shenzi (the hyena originally voiced by Whoopi Goldberg) in the upcoming remake of "The Lion King." You may remember her from her role in "Captain America: Civil War." She had one line:
The roles women play in this film are powerful, and whew do they know how to dress! Major props to the costume design team! Even more props to the stunt team. They even found a way to turn a wig into a weapon! (Design + functionality = every woman's dream!) Check out this short, inspiring film featuring stuntwoman Janeshia Adams-Ginyard. Then go see "Black Panther" (or see it again). Give this movie your money. It's worth every penny.